The Destructive Nature of Lightning Strikes | SERVPRO® of Friendswood/Pearland
5/19/2023 (Permalink)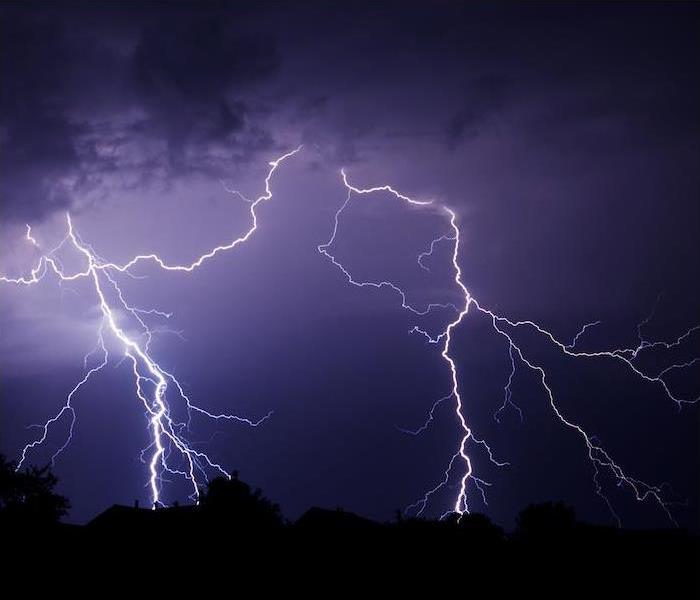 Lightning damage can come as a big shock. If you experience storm-related damage, call SERVPRO of Friendswood/Pearland to get it under control.
As the heart of severe storm season is fast-approaching, it is important to protect your home from the dangers of severe weather. It may be more common to take steps to avoid water leaks or wind damage, but the importance of preparing for damaging lightning strikes cannot be overlooked.
A single lightning strike can cause widespread damage and can spark a devastating house fire. Read on to learn more about how lightning can impact homes below.
When a Lightning Strike Hits
If lightning is in the area, it is important that you stay away from the windows and remain inside until the storm has passed. As the wind blows and thunder booms, flashes of lightning can pop up unexpectedly. If your home is struck by lightning, you will hear a very loud, powerful boom that could shake your entire home.
As the lightning strike makes its way down to ground itself, it can cause widespread destruction and can spark a fire. The heat can get up to 50,000 degrees Fahrenheit, which can easily ignite flammable materials inside your walls and rooms. A fire can also break out if the lightning bolt travels through your electrical wiring and causes an explosive surge.
What to Do First
Even if you don't initially see flames or smell smoke, you still need to call 911 so the fire department can come out and investigate further. The fire could be behind your walls or smoldering quietly before it becomes a large blaze later. If it is safe to leave your home, do so quickly and gather at your pre-determined safe shelter location.
If a fire is discovered in your home, the authorities will have the tools and equipment to identify exactly where it originated and will put out the fire as quickly and efficiently as possible. Once the fire is out, it's time to call SERVPRO of Friendswood/Pearland.
How Our Fire Damage Restoration Process Works
No matter how it starts, suffering a house fire can be really overwhelming and incredibly scary. Our fire damage restoration team knows this, and so we prioritize working alongside you to ensure a smooth and easy recovery.
We arrive quickly and will secure the rest of your home with tarps and other equipment to prevent further damage. Once secured, we get to work removing damaged debris and compromised possessions.
We can remove soot and the smell of smoke from virtually any area of your home! Once your space is clear of the damage, we can clean and sanitize and then start the repair process. We can lay new carpet, hang new drywall and can even give your space a fresh coat of paint to finish.
We can help you recover from a house fire faster. Contact us at SERVPRO of Friendswood/Pearland today.