Get ALARMED About Fire Safety
6/30/2019 (Permalink)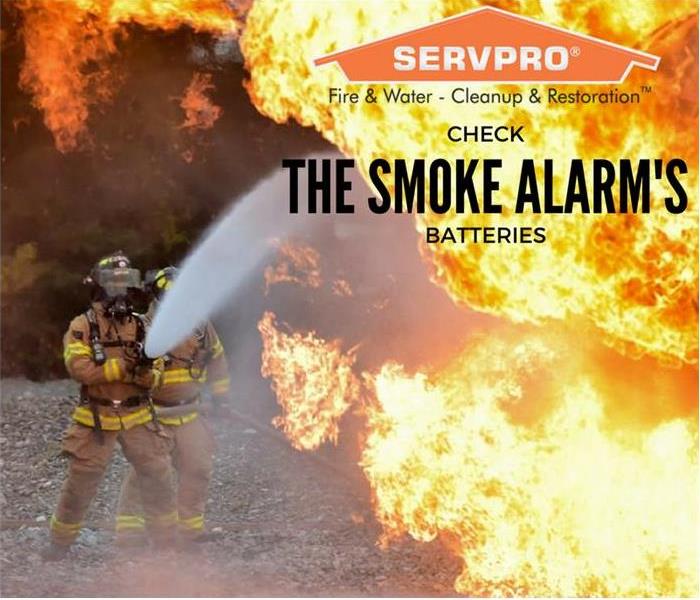 Something as simple as checking your smoke detector's batteries can help save you or the life of a loved one in the case of a fire.
You probably know what the smoke alarm in your home looks like. You should also (hopefully) know where it's located. The big question you should ask yourself is, "Does it work?". The Residential Fire Safety Institute shows that over 92% of dwellings in the US have smoke alarms. Which sounds like a great statistic, right? But it's also estimate that one third of those smoke alarms do not work.
Smoke Alarm Maintenance
Smoke alarms are fairly low maintenance, however, they cannot simply be installed and forgotten. Here are some tips to keep your smoke alarm functioning properly:
Replace smoke alarms every decade. After 10 years, smoke alarms have a 30% failure rate.
Vacuum alarms once every 6 months to once a year. An alarm clogged with dust and debris can affect the alarms' ability to function properly.
Install both ionization and photoelectric alarms. The ionization detectors activate quicker for flare ups or flaming fires, while photoelectric detectors work better for slow, smoldering fires.
Test your fire alarms once every 3 months.
Where Should Smoke Alarms Be Located?
Most homes have at least one smoke detector located in a common area of the dwelling, while business have many alarms spread throughout the building. Companies cover all areas of the business, especially when a surplus of electricity or a kitchen is used.
While most businesses have all aspects covered, does your home have the same protection? While the kitchen would normally be seen as the most common area a fire would spark, fires can start in many ways and if you don't have multiple detectors throughout your home, you risk not being notified of the fire in time for a quick, safe escape.
To ensure you'll be alarmed no matter where you or the fire are in the home, check out this list of areas you should consider placing a smoke alarm:
Outside each bedroom area. This could be a hallway, or game room that contains the entrances to the bedrooms.
In each bedroom. This ensures the occupant will be alerted if a fire were to start inside the room or outside of an entrance, such as a window or door.
If your home is multi-level, place an alarm on each level of your home, including any basement or attic areas.
Near the kitchen and utility room. These rooms commonly hold the most appliances and contain the greatest risk for a fire hazard. Try not to keep the smoke alarm too close to the kitchen to avoid the alarm going off each time you cook.
If your home or business has suffered from fire or smoke damage, click here to check out fire/smoke restoration services. Call a member of our helpful office staff at (281) 412-6211 for more information on our services or to schedule a consultation.