Mold vs. Mildew
1/30/2018 (Permalink)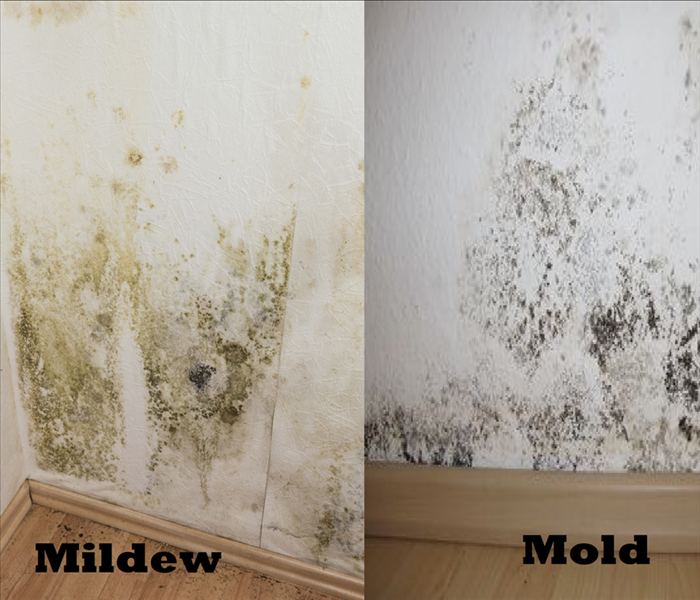 Mildew can easily be mistaken for mold but if you know what to look for its possible to see the difference.
Many people mistake mold for mildew which causes concern for needless worry. While both pose an obvious hazard to your health, the mold is known to be the most dangerous. Now that doesn't mean just because you have mildew you are safe. It just means there might not be a need to call in the big scary guys with hazmat suits you were afraid of as a child. Both fungi like to grow inside your home. Both spread very easily, and both thrive in a moist environment. Yet despite being so similar, each needs to be removed in its own special way to prevent serious damage.
The difference between the two:
Mold is a fungus that grows in black or green patches that sink into every nook and crevasse of the affected wet area. Removing mold typically involved cutting well around the visible area where the spores are likely to have already set in. Mildew is best explained as a type of mild mold. It grows to be flat against the surface without penetrating the structure and can be easily scraped off if caught early. Most people will see evidence of mildew on their expired food or plants and simply toss them out long before it becomes an issue. You can also occasionally find mildew on other organic materials such as paper, damp drywall, and fabrics.
How to tell one from the other:
Mildew:
Typically, gray or white (but will turn black or brown given time)
Powdery or fluffy appearance
Grows in flat patches usually circular in shape
Likes to grow on currently wet areas
Mold:
Typically, black or green but can range to nearly any color
Fuzzy or slimy appearance
Irregularly shaped
Will cause the material beneath it to rot
How to Prevent Mold and Mildew:
Fix plumbing issues/leaks as soon as possible
Clean the fabrics in your home periodically
Store items in a dry area
Use a dehumidifier, open a window, or turn on a fan to keep moisture to a minimum
Wash wash wash your bath mats