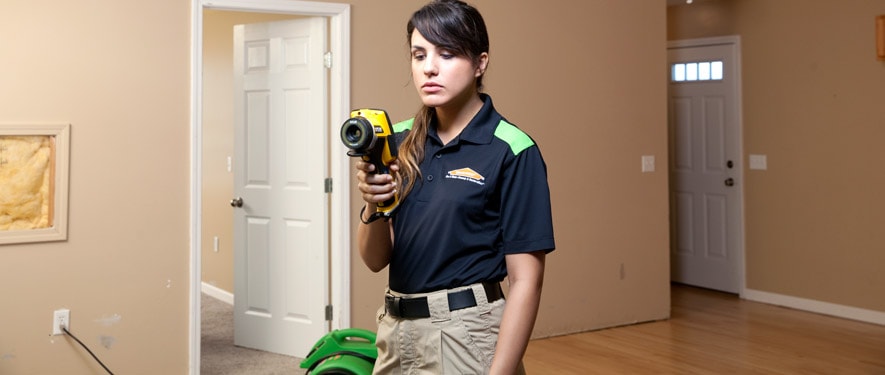 Step 2: Inspection and Water Damage Assessment
Our Water Damage Restoration Process
SERVPRO® Friendswood/Pearland, Stafford, Missouri City North and Fresno has the expertise and equipment to quickly restore your property to pre-water damage condition. We use a scientific approach to water removal and water cleanup that emphasizes monitoring and documenting the drying process from beginning to end.
After our professionals arrive at your home, they will thoroughly assess the water damage and help you understand its severity, hazards that may be present, and determine what can be restored. If necessary, we will also assist with stopping the source of the water damage. All of this is a crucial step to creating an effective plan of action that will result in the successful restoration of your property.
Every water damage event is a little different, and requires a unique solution, but the general process stays the same.
Identify and Stop the Water Source
We will check for the source of moisture in your home or business. The source must be stopped before any restoration or drying of the building can be successful.
Stop the Source
Check for Contaminated Water
Identify the Type of Water
We will identify the category and classification of water damage to ensure our professionals restore your property based on industry guidelines. The level of contamination of the water will affect the specific restoration processes we use.
Category 1: "Clean Water"
Category 2: "Gray Water"
Category 3: "Black Water"
Survey the Extent of the Water Damage and Inspect the Premises
We inspect and test to determine the extent of damage and how far the moisture has traveled to ensure proper and complete restoration. In addition, we will inspect for safety concerns that may be evident. If there are any safety issues like lead or asbestos, please bring them to our attention.
Survey Damage
Complete Safety Inspection
Move or Block Furniture
We move furniture and property contents and block items to help prevent rust or furniture stains on wet carpet.