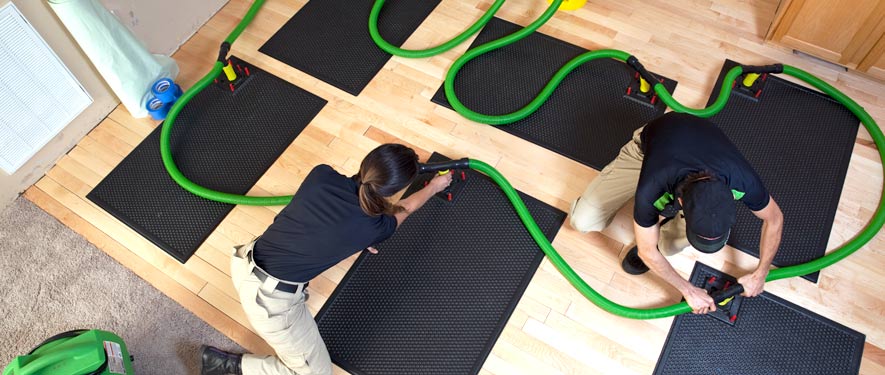 Step 4: Drying and Dehumidification
Our Water Damage Restoration Process
Once the excess water has been removed, the floors and walls may appear dry, but a quick inspection will reveal they are wet to the touch. Nearly all building materials, like wood, drywall, and flooring materials, are porous and therefore retain water. This retained water can cause the materials to break down, warp, or cause mold damage.
Damaged Material Removal
If any materials cannot be successfully restored, this will be communicated to you. These materials are typically removed as soon as possible to expedite the drying of all restorable materials.
Cleaning, Sanitizing, and Deodorization
Water damage can create cleaning, sanitizing, or deodorization needs for floors, furniture, and other personal belongings. SERVPRO professionals use a variety of specially formulated products, industry-leading equipment, and proven techniques to accomplish this important aspect of restoration.
Drying
After the bulk of the water has been removed, our specialists use industry-leading drying equipment to remove the water you can't see. This will target water within materials to bring these materials back to their normal moisture level. This equipment is normally placed during the first visit to your property. The type and amount of equipment is based on your unique situation and industry standards.
Drying / Dehumidification
Our Professionals will use room measurements, temperature, and relative humidity to determine the optimal number of air movers and dehumidifiers to dry your home or business. We'll carefully monitor the progress using moisture meters until the materials return to acceptable drying goals.
Use Dehumidification Equipment
Use Monitoring Equipment to Track Progress
Monitor Floor and Walls
We check the moisture levels to monitor the drying process. 
Monitor Floors
Monitor Walls
Drying Equipment
Industrial-grade dehumidifiers help prevent secondary water damage like swelling and warping of floors, walls, and furniture.
High-speed air movers create airflow across walls, carpets, pads, and furniture, which accelerates the evaporation of moisture.